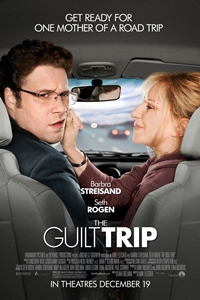 Opening Date:
December 19, 2012
Cast:
Seth Rogen, Barbra Streisand, Yvonne Strahovski, Adam Scott, Michael Cassidy, Miriam Margolyes, Danny Pudi, Kathy Najimy, Dale Dickey, Brett Cullen
MPAA Rating:
PG13 for language and some risque material
Synopsis:
Andy Brewster is about to embark on the road trip of a lifetime, and who better to accompany him than his overbearing mother Joyce. After deciding to start his adventure with a quick visit at mom's, Andy is guilted into bringing her along for the ride. Across 3,000 miles of ever-changing landscape, he is constantly aggravated by her antics, but over time he comes to realize that their lives have more in common than he originally thought. His mother's advice might end up being exactly what he needs.
The Guilt Trip (PG13)
Click bold theatre name for showtimes and tickets.
Showtimes available three days prior to opening.