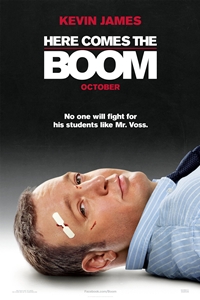 Release Date:
October 12, 2012
Cast:
Salma Hayek, Kevin James, Henry Winkler, Joe Rogan, Bas Rutten
Genre:
Action/Adventure, Comedy
MPAA Rating:
PG for bouts of MMA sports violence, some rude humor and language
Synopsis:
Former collegiate wrestler Scott Voss is a 42-year-old apathetic biology teacher in a failing high school. When cutbacks threaten to cancel the music program and lay off its teacher, Scott begins to raise money by moonlighting as a mixed martial arts fighter. Everyone thinks Scott is crazy most of all the school nurse, Bella but in his quest, Scott gains something he never expected as he becomes a sensation that rallies the entire school.
Here Comes the Boom (PG)
PLAYING MARCH 11 AT:
Show times are available on this date for theatres in bold type. Click theatre name for tickets.